Gina has hired Durelle to help her decorate her new loft. Durelle is a top Interior Designer and is highly recognized as "HIP" in the growing "Loft" communities of Houston.
Durelle was referred to Gina by her best friend Nickolette, whose mom had recently use her when she had done some redecorating in the summer house.
The two met in Gina's new loft a week ago. Durelle is now in her studio awaiting Gina's arrival to present to her the new design she proposes for her bedroom, which Gina had stressed was the most important room to do first.
GINA ARRIVES.......
GINA: Hi Durelle, I am soooo excited to see what you have for me….I just can't wait. I want to get it done. I am having a guest come to visit for a whole month and I want everything perfect.
DURELLE: I am so glad to see you…..I have been working so hard to put together a room that will be "JUST YOU"! As you may remember this is the mirror you picked out when we went shopping at the Decorative Center on Tuesday? I used it as my inspiration piece for the whole room.
GINA: Oh yes….I love that mirror…the colors and feeling is just what I had in mind.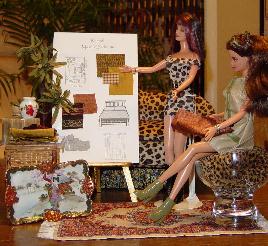 DURELLE: Well, have a seat and let's get started. I know how much you enjoy the art of Feng Shui and I wanted to bring all of those elements into your new environment. So much of what I selected for you has an Asian flavor.
Remember the bed we saw at The Deco Center....the Bamboo one?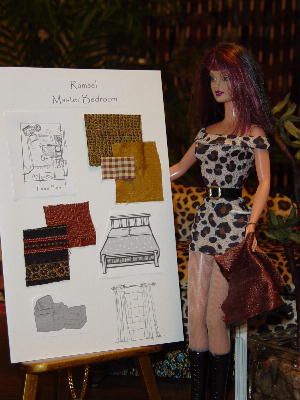 Well, I think it will be the perfect centerpiece for the room. This is the floor plan..........The bed will be between the two windows flanked by two metal and bamboo nightstands handcrafted by a local artist. I am recommending an easy chair and ottoman for reading and relaxing in this corner of the room. The window treatment will be of luscious dupioni silk, fully lined and hung from handcrafted bamboo rods with rings.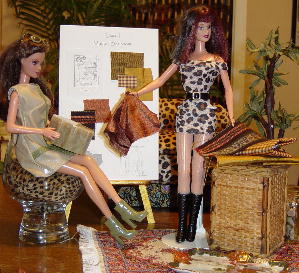 (Durelle continues.......)
OK...now move over here and lets look at all of the fabrics. I recommend....this is for the Euro pillows on the bed. And this will be an accent pillow.....Now I want to feel of this ......this will be the fabric for the duvet...it is a wonderful and cozy chinelle.
GINA: (overwhelmed with joy) Oh my gosh....this is wonderful...and just love how well it all goes with my mirror. You are just wonderful....I can't believe...you have captured my ideas perfectly!!!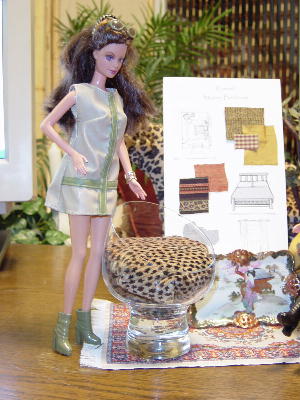 GINA: You know I really love this chair….do you think it would work in my loft somewhere? In another fabric of course……..
DURELLE: Well you can never have too much leopard…..every house should have a touch of it some where. But yes….I think we could use this chair in your living room we will consider it as an option when we are ready to do that room.
And now the BIG SURPRISE!...this is the perfect art I found for over your bed….TA DA!
What do you think?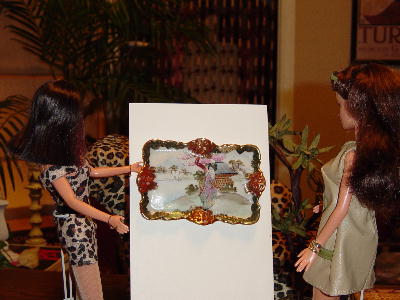 GINA: What do I think.....?
I think I am in LOVE!
I will take it!
Durelle, you are my new best friend! I can't wait to see it finished.......Where do I sign?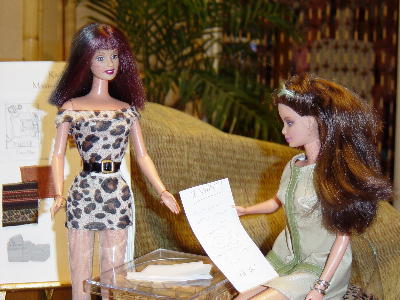 Click her to check out "The New Loft Bedroom"