Meet Gina.....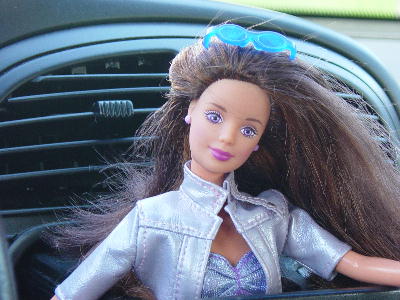 This young, stylish and beautiful brunette is a fun loving single career girl. Her name is Genaeve Ramsel, Gina for short. A struggling artist with a degree in Theater Arts, Gina has just landed her very first full time "real" job.
In September Gina will be starting her new job as Costume designer for the Alley Theatre, a local repertory theater in Houston. This is her dream job, all of her life she has wanted to live in the fantasy world of the Theatre. To be able to apply all of her extensive Art History back ground to dressing characters in elaborate and creative costumes gives her great joy and validates her as an artist.
While pursuing her dream as a costume designer Gina has kept a float financially with her part time part time job as a "Feng Shui" Consultant and has also worked as a Art History teacher's aide at a local Junior College.
These are Gina's best friends.....Nicolette and Tiffiany. The girls are long time friends from college. They try to get together when ever they can, although career paths have moved them in different directions. The girls still have a "just for fun" band..."The Katy Kats" which helps to keep them close.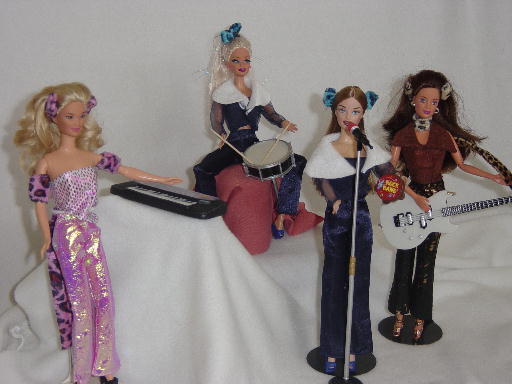 Gina is the lead guitar and back up singer for the group.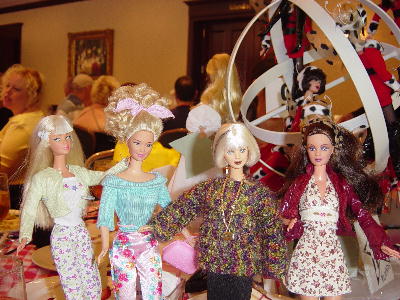 Here are some other close friends Sunny and Revarie, from Calf. This pic was taken when the girls met up at a convention in Dallas this past summer.
Gina has just purchased her first home, a newly renovated loft in the downtown area and is anxious to move in. Only trouble is she has no furniture other than the stuff she had from her childhood and the junk form her college days.

Click her to check out "The Deco Experiance"
Birthday Suprise 2002
July 2004 Dollie Day
~~~
Demi-Divas by Durelle
---
Home Gallery About Me Awards /Sales Email
---